COVAC token ($COVAC) is a community-driven, fair launched DeFi token used to track the number of COVID vaccinated people around the world - basically we are a countdown timer to when we can resume travel and get back to our normal daily lives!
​
If you love our Automatic Rewards, Burn, and Community-driven approach, then join our A-B-C cause!
​
Every trade has a 10% tax that contributes towards automatically generating liquidity that goes into pools used by exchanges, i.e. 5% to the COVAC-BNB liquidity pool and 5% reward redistributed to existing token holders.
10% of supply burned at launch and progressive token burning planned in accordance with global population vaccination milestones to help drive up COVAC token price and reward our hodlers.
Community-driven and fair launch with airdrops and partnrships to build the COVAC community and reward our hodlers.
19,000,000,000
(19 billion)
$COVAC tokens
10% at launch
​
Remaining 20% burn at the following milestones:
5% tokens when 20% of the global population is vaccinated,
5% more at 30%, 5% more at 40% and the final 5% at 50% vaccine penetration.
20% for partnership and community-driven events
​
10% for marketing and growth
​
20% for liquidity pool
15% airdrop to the community
​
5% to the core team
Global COVID Vaccination Rate
✔️10% token burn at 10% global population vaccinated
(14th June 2021)
​
✔️ 5% token burn at 20% global population vaccinated
(23rd June 2021)
​
✔️ 5% token burn at 30% global population vaccinated
(12 August 2021)
​
✔️ 5% token burn at 40% global population vaccinated
(4 September 2021)
​
⏰ 5% token burn at 50% global population vaccinated
COVID Travel Restrictions Map
Phase 1 (Q3 2021)
✔️ Website and token launch
✔️ Poocoin and Bogged Finance listing
✔️ BSC Scan listing
✔️ DEX listing - PancakeSwap launch
✔️ 1st token burn
✔️ Social media launch - Twitter, Telegram, YouTube, Instagram
✔️ Token airdrop community events and influencer marketing
✔️ TokenBlast beta testing
✔️ COVID Restrictions Map for travel (new product!)
​
Phase 2 (Q4 2021)
✔️ CEX listing - Hotbit launch
✔️ 20k followers on Twitter and Telegram
✔️ Press Releases
⭕ CoinGecko listing
⭕ CoinMarketCap listing
⭕ BSC News marketing
⭕ Audit approval, e.g. Certik
⭕ Website upgrades
⭕ COVACPass+ digital health pass beta launch
⭕ Partnerships with travel platforms
⭕ Token burn(s) based on vaccination milestones
⭕ COVAC merchandise made available for the community
​
Phase 3 (Q1 2022)
⭕ COVACPass+ launch
⭕ Travel Content sharing site
⭕ Team expansion and community AMA
⭕ Token burn(s) based on vaccination milestones
Get COVAC on PancakeSwap or Hotbit today!

Watch to find out how to buy $COVAC
Frequently asked questions
Do $COVAC holders receive $COVAC for free?
---
Yes, with our RFI static model, 10% of every single transaction by the community gets redistributed to the BSC network, i.e. 5% to the hodlers, and 5% to the liquidity pool.
---
Why do we need to set slippage of PancakeSwap to 12%?
---
There is an additional liquidity provider fee on PancakeSwap of 2%, so that needs to be added to the 10% transaction fee.
---
How do I keep updated with COVAC news?
---
Follow us on Twitter @CovacCrypto for the latest news and Telegram to stay in touch!
---
Is there a limit to the number of $COVAC I can buy?
---
Yes, we have an anti-whale policy with a max buy/sell of 209,000,000 $COVAC tokens per transaction.
---
How do I add $COVAC on Trust Wallet?
---
Step 1: Access Search Token Screen Tap on the toggle sign on the upper right corner of the Wallet screen. Scroll down to the bottom of the list of available tokens and you will see there + Add Custom Token. Step 2: Get Custom Token Information Go to BSCscan here. Tap on the "Contract" address under "Profile Summary" to get to the Token Tracker page. On the upper left you can see there the Contract address. There will be a button there that you can click on to show the QR code details, or scan it here:
Step 3: Fill up Token Details Using the information taken from BSCscan, select "Smart Chain" as network, COVAC as the name of the token, COVAC as symbol, and 18 decimals. Tap on Done.
---
How do I transfer $COVAC to Hotbit?
---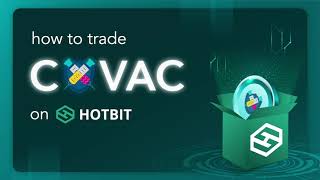 Step #1: Login to Hotbit, click "Fund", then "Deposits"
Step #2: Search for "COVAC" and select "BEP20(BSC)"
Step #3: Either scan the QR code or "Copy Address".
Step #4: Go to Metamask, and click on COVAC
Step #5: Make sure you have enough BNB to pay for gas, and click "Send"
Step #6: Paste this address and send. Remember to pay for gas! Happy trading $COVAC!
---
---
Buy 50 USD worth of $COVAC,
Get FREE 100,000 $COVAC!
(Limited period till 6 Sept!)
​
​
​To be eligible:
​
​
200 lucky participants will get
100,000 $COVAC each!
​
​
​
​
The COVAC team reserves the right to exclude entries which do not meet all the participation criteria at time of closure of the competition. $COVAC tokens will be distributed to the winners by 11 September 2021.